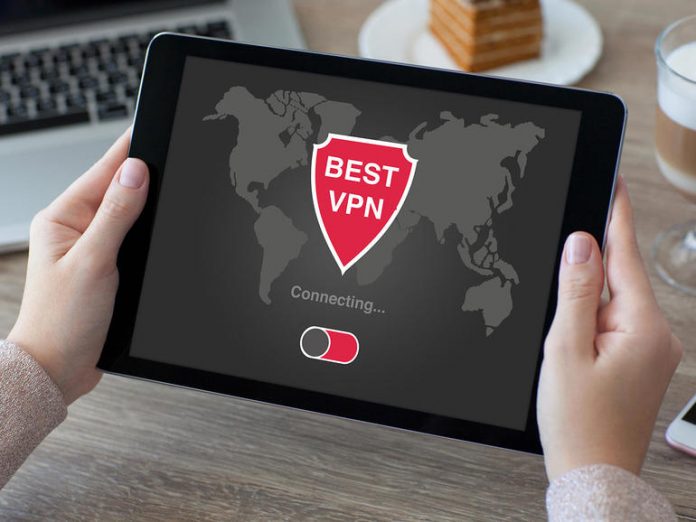 To find the best VPN service for your personal or business needs, you'll need to do more than compare brands, prices, and features. First, you need to understand how a VPN accomplishes its primary mission: Keeping you safe and protecting your privacy online.
Fundamentally, most VPNs (virtual private networks) provide two services: They encrypt your data between two points and they hide the IP address (from which a general location can be derived) where you're located. For those traveling or out and about, the first function is critical because most Wi-Fi available publicly is unencrypted — so anyone on the network can see what you were sending.
But VPNs also serve to hide your IP address, replacing the address logged on servers with one in a completely different location — even a different country. For those worrying about stalking or other threats, this feature could save lives. Most consumers, though, find streaming VPN features compelling because — in some cases, and with dubious legality — it allows them to spoof their region of origin to get access to streaming media and sports blacked out from their home locale.
There is no doubt that you should use a VPN service provider when you're using public Wi-Fi when away from home. But what about when you're at home? Should you use a VPN then?
My general advice is that using a VPN is not critical for most people at home, since your ISP rarely wants to look at your traffic. But if you live in an apartment with a bunch of curious roommates all sharing one router, a VPN might prove valuable. If you're connecting to work and want to make sure you're taking all the precautions you can (and if your employer hasn't given you a corporate VPN to use) a VPN service would be useful. If you're connecting to websites that log connection information and you don't want to leave tracks where you are (especially where your home is), you might want to use a VPN. You get the idea: If you want extra protection and safety at home, then a VPN isn't a bad idea.
In this article, we look at a bunch of our top VPN solutions. We'll cover many of the best VPN service providers, how to access the native VPNs built into your desktop machine, and even how to use your NAS as a VPN client and host. If you're curious about VPNs, you can learn a lot more in our massive VPN FAQ.
Four tips to help you evaluate
1. Pay attention to trial period times and use them: Every VPN performs differently, and every user experience is going to be different still. Your ISP will offer different speeds than mine. Your favorite coffee shop has a different network connection than mine. You're even likely to be connecting to different countries and definitely different sites. Before committing to a VPN provider, test candidates thoroughly in your real-world environment. That's what the trial times and money-back guarantees are for.
2. Avoid free VPN providers: Running a VPN is expensive and if the VPN provider doesn't make money from your service fees, they're going to make money from your data — sometimes even stealing your personal information and selling it. Stick with the proven commercial vendors we've tested.
3. Don't worry about country of jurisdiction, unless: There are generally two classes of VPN users, those who need to protect their coffee shop surfing and those counting on a VPN to protect their lives. VPN often provides a level of security theatre where folks get bent out of shape if a country has any form of data jurisdiction. But as I showed in this article, many countries outside of the so-called Five Eyes are Mutual Legal Assistance Treaties signatories and will share data with the US and other countries anyway. If you're using a VPN to protect your life, research this a lot more than reading a review article.
4. Finally, don't sweat warrant canaries and no log policies: Most of you are going to use a VPN to protect your data stream from being hijacked by someone sharing your network. All of these big legal and jurisdictional issues get in the way of the simple fact that you want fast transfers and an encrypted tunnel from your spot in the airport to the website you're trying to access.
And with that, let's dig into what makes the best VPNs tick and answer some more of your questions at the end of this article, so read on. But first, our picks for the best VPNs of 2021.
Best VPN providers
If you're curious about how VPNs work or what a VPN provider can do for you, here's a great VPN overview article. Now that you understand how a VPN service can help keep you safe, let's kick it off with our list of recommended service providers.
Native VPN support on your desktop
If you're connecting to a corporate VPN, you may not need to purchase a VPN service. All the major desktop operating systems include VPN capabilities. Here's how to get started using those.
VPN for your whole home network
Many of the commercial VPN services discussed above offer router-based VPN solutions. Even though I have a pretty powerful router, I prefer to run my VPN on my NAS. Here are two NAS-based VPN solutions that will get you connected securely.
A mini-FAQ about VPNs
I answered a bunch of common questions above our big list of the best VPNs for 2021. But here's a quick lightning round of questions and answers about VPNs, just to round out your knowledge.
How to choose
I could write an entire article about how VPNs work and how to choose, and, in fact, I did. Rather than repeating it all here, I'm just going to point you to How to find the best VPN service: Your guide to staying safe on the internet.
Must read:
Our process
This list did not involve as much original research and testing as some of my other recommendation lists. That's because I've been writing VPN articles every month or so since early 2017. I have looked at a lot of VPN providers.
Also: Fastest VPN: How we rated the top services
Many of the providers recommended in this list have been subject to in-depth testing and reviews, written either by me or by CNET's product evaluation team. For those, we have tangible testing numbers. Other VPNs have been ones we've been talking about for years, spoken with their management and their users, and have developed a generally positive impression.
A few of the VPNs (Hotspot Shield, in particular) had a more rocky road. They had some tough PR at the beginning and made some seemingly ludicrous claims about speed. It wasn't until I brought them in house and pounded on them for a few weeks that I realized that their claims were justified. Sometimes, products just surprise you.
But here's the thing: All these vendors have solid money-back guarantees and we would not have recommended them otherwise. We do test VPN services from multiple locations, but we can't test from all locations. Every home, every community, every local ISP, and every nation has a different infrastructure. It's essential that once you choose, you test for all your likely usage profiles, and only then make the decision to keep the service or request a refund.
One thing to consider is whether you're looking for a solution for working at home vs. traveling. For example, if you travel rarely (even before COVID-19), have strong bandwidth at home, and have a NAS or a server box, you might want to VPN to your home server from your machine's native client, and then out to the world. If you're newly home for the duration and your company has a dedicated VPN, you'll want to use whatever process they've set out for you.
Must read:

But, generally speaking, it doesn't hurt to have a VPN provider already set up and in your kit bag. Most home-based traffic won't require VPN usage, but if you're on any sort of shared connection, having a VPN provider is a good idea. Also, if you ever think you'll need to access the Internet from out and about — like a hospital or doctor's office, then having a VPN provider can be a win. Likewise, if you want to obscure where you're connecting from (this might be more important now that we're always in the same place all day), a VPN provider might help.
Finally, don't expect miracles. Your home-based pandemic broadband pipes are likely to be more clogged than ever before. Everyone is at home, many people are streaming movies to stay sane, and there are only so many bits that can fit at any given time. If you experience traffic slowdowns, be sure to check not only your VPN, but your Wi-Fi connection between your device and your router, your connection to your broadband provider, and even their connection to upstream providers.
That said, we're all in this together. Hang in there and stay safe. How are you managing your home-based networking? Let us know in the comments below.
---
You can follow my day-to-day project updates on social media. Be sure to follow me on Twitter at @DavidGewirtz, on Facebook at Facebook.com/DavidGewirtz, on Instagram at Instagram.com/DavidGewirtz, and on YouTube at YouTube.com/DavidGewirtzTV.